Our ranch
Those Vegan Cowboys work in a biotech facility, close to Ghent University (Belgium). The lab was originally founded in 2008 and has developed its own microbial platforms to express recombinant human proteins for pharmaceutical use. The scientific staff is therefore highly experienced (>300 years working years) in the field of microbial fermentation.
In January 2020, the state of the art lab facilities as well as the employees became Those Vegan Cowboys. They even have cowboy coats. Do you want to know every detail of our operation? Our Chief Cowboy loves to take you on a digital tour.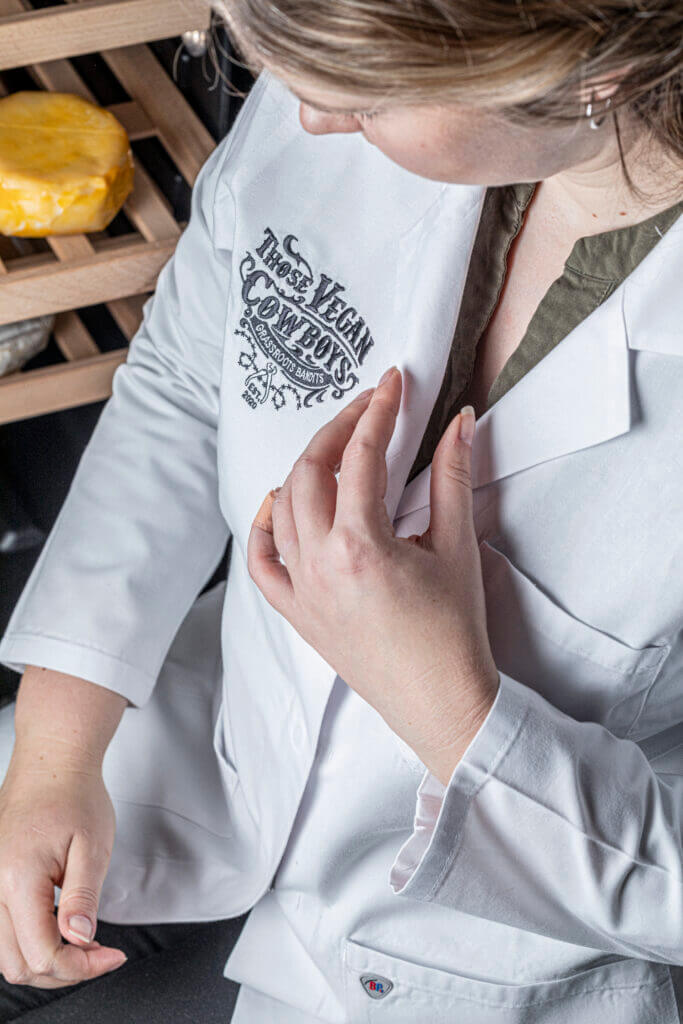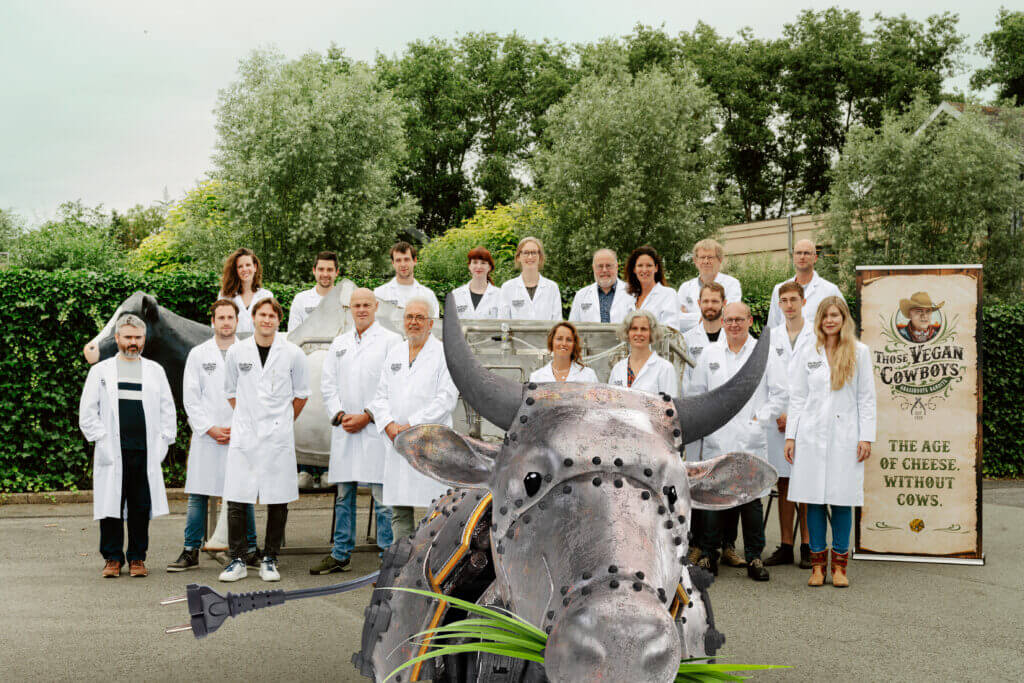 Margaret's board & crew
Here's a snapshot of Margaret surrounded by her board & crew: a growing bunch of badass scientists, with distinctive knowledge in yeast and fungal metabolic engineering, purification & characterization of proteins and process development.
Meet our cowboys
Annabelle 'Colorado' Cassiman

Yes, this creative big shot got microbes into paintin' textiles, which graciously circles back to her current magnum opus: the ultimate cow-free cheese. That's Colorado Cassiman for ya.

'Old Steady Hand' Stijn Morsa

A hand as precise and steady as Stijn's is seldom encountered. He effortlessly delves down to the deepest secrets of DNA. He also possesses the strange talent to always shake the exact amount of eppendorf tubes from the bag that is needed.

Jeroen 'Punk-Rock Prairie Dog' Vanhecke

Jeroen spent the better part of the last decade mastering the mysteries of biochemistry. He hopes to help improve the world, and if making cheese is what it takes, that's what we call a win-win.

Tien-Yang ´The Strain Stuntman´ Ma

After knocking biofuels & biochemicals out of the ballpark fermentation-wise, his career-long passion for tackling sustainability challenges by means of microbiology took this stunt cowboy from Taiwan to Technologiepark. His secret? Balancing out the *strains* of working life with just the right combination of basketball, tennis, loud music and gardening. Our department of Molecular Biology salutes you, Strain Stuntman.

'Old Precise' Anaïs Bekaert

This particular research associate knows all there is to know about separating components, but will go down in prairie history for her ability to accurately estimate mass down to the weight of an Arizona cricket.

'Mad Ranger' Eline Meert

Our scientist/cheese girl is famed for her analytical as well as applicational prowess, and her love of coffee as black as the heavy metal she listens to. Outside the lab you can find her gallivanting with her faithful canine companions, Roran and Skadi – shooting sharp with her camera as she goes.

Kathleen 'the sticky Belgian' Piens

If our Head of Downstream Processing were to be cast away on an island, she'd be lost beyond all hope. But give her a team and Kathleen's blazing in the saddle! Her loyalty has earned her the nickname 'The Sticky Belgian'.

Stefan 'Far Out' Gambal

Stefan puts his supernatural skills to use cheering on micro-organisms to produce the casein we need. He's done this kind of trick before, helping to develop a new vaccine against whooping cough. Which didn't stop us from whooping with joy when we welcomed him on the ranch.

Frederik Herremans

'El Vaquero Viejo' Sybe Hartmans

Though a new face on the ranch, he's an old-timer when it comes to the intricacies of microbial protein production. And having many years of experience under his belt makes him perfectly suited for his position, which is aimed at developing and strengthening the protocols behind out fermentation processes. His efforts will polish our procedures, and help us implement our methods of fermentation on a larger scale.

Roald 'don't stop me now' van Belle

This man continues where others stop. Roald keeps our ranch clean and organized. Not an easy task with such a rebellious stainless steel cow.

Matthias Spriet

Niels 'Friendly Face' Daelman

As one of our research associates, Niels busies himself with evaluating the qualities of the product. He's infamous for his ability to neatly stack his garbage, always filling his bin to the brim.

Steven 'Sing-A-Long' Geysens

Our Head of Molecular Biology devotes his time to developing new Microbial strains. His friends know him as a passionate singer, who simply needs to delve into the Country genre a bit more before he'll draw crowds at the state fair.

Herman 'Eagle Eye' Blockx

This scientist is a true magician with yeast, but is above all famous for his pinpoint powers of observation. Rumor has it that he can properly estimate the optical density of a yeast culture to 0.1 O.D. with the naked eye.

'Calamity Copy' Lil

Brought up on Belgian comics, Ennio Morricone and bad news about livestock farming, creative copywriter Lilianne Laan craves cow-less cheese as hard as the Iron Lady herself. Rallying cries: honesty is a good strategy, never spit on solid alliteration, and if it's not funny, it's no fun.

Hille 'the Indian' van der Kaa

Outside of the lab, there's hardly an aspect of our business that our Chief Operational Cowboy ain't involved in. Living up to her nickname, this 'Indian' always lives in the moment and represents the calm in the eye of the storm.

Bank Manager Luc Van den Hauwe

Our financial controller guards the safe with his life. Not a dollar, eagle or gold brick leaves the building without his say-so. Rumor has it that he starts every day by securing the stacks of cash, and that he falls asleep at night counting silver coins instead of sheep…

'Two Face' Belinda Hunziker

As Cowboy Multitask Office Manager, Belinda is the backbone that lets the lab run like a well-oiled machine. She might seem villainous in the early mornings, but after a refreshing splash in the campside creek this heroine of the rolling fields greets the sun with a wink and a smile.

Niko 'Stands Tall' Koffeman

Niko, founder and Chief Marketing Officer of Those Vegan Cowboys, uses images and words to work his brand of magic. He mostly works in the cool of the shade, where he burns brighter than the prairie sun on a summer's high noon. A grand figure behind the scenes.

Jaap 'Eyes On The Horizon' Korteweg

Once a famed shooter, the founder/CEO now shoots for the stars. Nobody truly knows what thoughts, ideas and mysteries hide behind his smouldering eyes. Gaze towards the horizon, senses flown..?

Guillaume 'L'Imperturbable' Lerondel

Our French (!) scientist is a tough cookie to crumble: he was able to watch the first six episodes of Star Wars in a row, with only one trip to the toilet and one food break. Some say he even survived twelve years of working with Belgians!

Ruben 'The Iron Ink-slinger' Jager

This velvet-tongued vagabond roamed many a wild land in his days, and many await him still. With a voice like honey poured over thunder and lightning-quick wit, his words resound over prairie and paper alike.

Robin 'Yeast-Whisperer' Vanluchene

Known for his ability to rapidly recall dates and faces, this young cowboy (or padawan in a certain coworker's jargon) is also adept at tweaking the genome of our beloved microbial strains, mostly using the principle: if it's stupid but it works, it ain't stupid."

'Crafty Cowgirl' Elke Descamps

Good luck if you want to reach Elke off duty, because she won't be pickin' up her phone. Way too busy killin' it at the potter's wheel, sewing machine or in the wild wild woods.

Edward 'Let's go outside' Krekelbergh

If proteins are gold (and to us, they are), The Wicked Cricket sifts the gold that is dug up upstream. No protein can keep a secret from this man – one piercing stare and they reveal their stability and all their structural qualities. Loves a good challenge and that's exactly what separates the cowboys from the ordinary lab folks.

Arne 'Ace' Schatteman

Take the lab coat away and you find yourself with an unleashed version of the serious scientist, who shreds both drums and bass whiplash-style.

 'Gal of Mystery' Maria Vazquez

Our Fermentation Team will never be the same, for we now have an international woman of mystery among the ranks.
Before galloping onto the ranch, Maria gathered intel in beer brewing research, before moving on to the serious stuff: vegan cheese.
Her love of hiking, bouldering and travelling steady her hand, while the occasional down-time puzzle keeps her mind sharp as a tack. As you can imagine, us vegan cowboys couldn't be happier to have her on the team.

Lisa 'Queen of Ostend' Vanderstraeten

Residing in the queen of seaside resorts, this molecular biologist knows her way around cloning and science fiction. Her quest for a better world led her to the lab, where she'll be taming Aspergillus strains to have them magically produce the cheese protein we're after. Well, magic to us laymen, but certainly not to her. Yeasts have no secrets for this cowgirl.

'Old Scent' Franck Fudalej

Our head of fermentation has got the sharpest nose, and can detect whether the yeast fermentation process in the bioreactor is successful just by smelling the broth. He is known for exhausting his enemies by taking them on a neverending trek.

'Sheriff' Will van den Tweel

Will leads the lab in an unprecedented fashion. There's whispers around the lab that he even breaks through walls to achieve his goals. He can also open a bottle of wine with nothing but a syringe, something that makes him loved amongst many cowboys.

Maria 'colorful cowgirl' Tiqwah

Our graphic designer is trotting around on both the digital trails and paper prairies. With her silver brush, she gives color to the logo and images of Those Vegan Cowboys. She loves drawing golden cheese nuggets and fast horses. Word has it that she is herding 4 cats on her range in the east.
Working at our ranch
Working as a Vegan Cowboy family member (cheesy but true), means excellent career perspectives in a rapidly growing field, your very own cowboy name and proud ownership of a share in the company through our personnel participation program. Shared with your colleagues, you will own 20% to be exact. Take a look at our current vacancies.