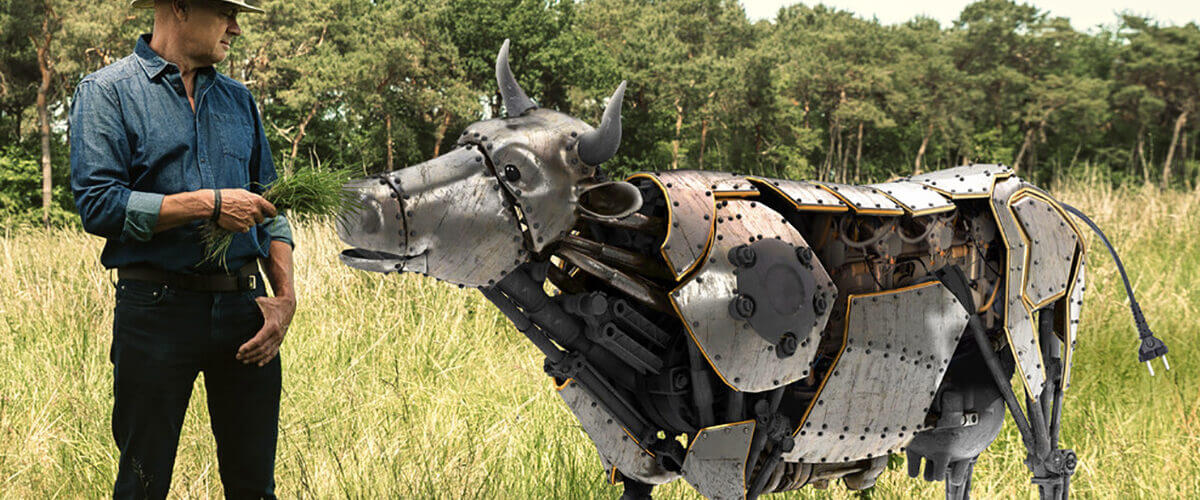 Pt 20: The Vegan Caravan
After two mighty long years with barely a festival or country fair to be found, it seems like the world was itching with anticipation to get back into the full swing of things. The summer sun'sa-blazin' in the sky, and people gather to share in their love of music, arts, and good food of course. The folks at Those Vegan Cowboys are no different. Wanderlust has ever been in our blood, so we jumped at the opportunity to form ourselves a traveling caravan and go touring the countryside, making friends and spreading the word of our mission as we went.
Our stainless steel biomechanical beauty Margaret insisted on coming along, and we were glad for her company on the trail. One of our first stops was at the Floriade, the world-renowned exhibition of horticulture, artsand progressive technology in Almere. This year's theme is 'Growing Green Cities', and the festival features a heavy focus on sustainable solutions and innovative initiatives. Naturally, we had a great time meeting like-minded folks and sharing our story. Margaret got so much attention, I could've sworn she'd never want to leave. Everyone and anyone wanted a photo with her, and she was more than happy to oblige. The Floriade is still up and running until October 9th, so make sure to pay it a visit! It'll take your breath away.
We never do manage to sit still for very long though, as the world's a big place and there's so many things to see. Even though Margaret was reluctant to leave the Floriade behind, we managed to convince her that fame could be found in more than one place. Our next stop was the Albert Heijn Beter Eten festival, where the future of healthy, sustainable and innovative food production was showcased and discussed. It was a pleasure to see the excitement spread through the crowds as we talked to them about our mission. Over the course of three days at the Beter Eten festival, we gained many a new friend and ally, and Margaret gained many new fans. She was looking exceptionally shiny indeed.
Two roads diverged in a yellow wood, and luckily we could travel both! Yessir, in the third week of August this little traveling caravan of ours will be setting up camp at not one, but two festivals at the same time. Part of our troupe will be touching down at Lowlands festival in Biddinghuizen, bringing our iron lady Margaret and some tasty vegan treats to music lovers from all over the world. Rumor has it that Margaret is a huge fan of the Belgian musical artist Stromae, and when she heard he'd be performing at Lowlands she was over the moo(n) withexcitement. The other half of our brigade will be visiting the Vegan Summer Fest at the Flanders Expo in Ghent, Belgium. This annual festival is all about vegan food, and is pretty much right in our neck of the woods!
Needless to say, we're planning to make a big impression there as well. I've made it my personal mission to try as many of the vegan foodtrucks as I can. And of course there's a bunch of cooking demos, informative talks, music, art… too much to name! I can't wait. And onwards our caravan will continue to travel, roaming the world and spreading the word. A cowboy's work is never done, and our saddle ain't never gonna hang on a wall for long. At the end of the day, it's always good to come back to our beautiful ranch though, and even Margaret gets homesick sometimes. Still, it never takes long before our feet start itching again, and the open road always awaits.
Till next time we meet, kind folks. We hope to catch you on the trail!